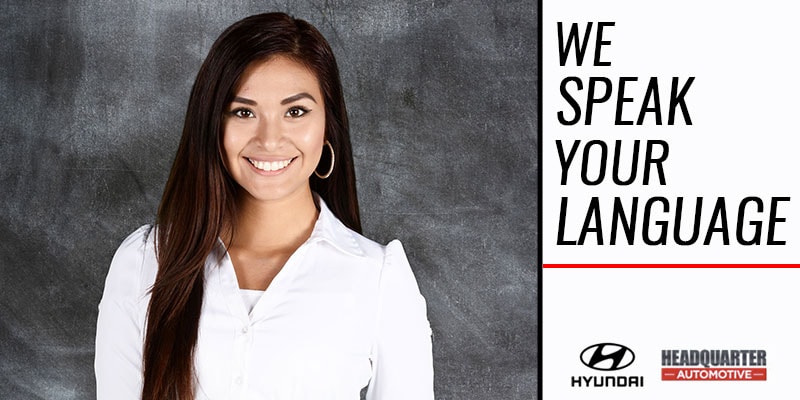 En Headquarter Hyundai hablamos tu idioma!
Comprar un auto puede ser un proceso dificil y el idioma puede ser una barrera. Papeleo, acuerdos financieros e incluso conversaciones simples son imposibles cuando el concesionario no habla su idioma.
Sin embargo, en Headquarter Hyundai, esto no es un problema.
Los duenos de Headquarter Hyundai son Puertorriqueños. Muchos de nuestros empleados hablan espanol y para nosotros es un placer servirle en su idioma. Nos aseguramos de que su experiencia con nuestro concesionario sea clara y transparente y nos esforzamos en satisfacer sus necesidades.
Si asi lo deasea, un traductor ubicado en la esquina derecha de la pantalla esta disponible para su comodidad. De esta manera podra navegar nuestra pagina completa. Visítenos hoy o llámenos al 407-278-2596 para hablar con uno de nuestros representantes bilingues.
Sera un placer servirle. Estamos esperando su llamada.
We Speak Your Language
Buying a car is already a difficult process. You don't want to have a language barrier, too. Paperwork, financial agreements, and even simple conversations are impossible when a dealership cannot speak your language.
This won't happen at Headquarter Hyundai.
The owners of Headquarter Hyundai are Puerto Rican. We have many employees that speak Spanish and are excited to serve you. We clarify the dealership experience and strive to satisfy your needs.
Please, use the translator located in the right corner of the screen. With this, you can navigate our entire web site. Visit us today or call at 407-278-2596 to speak with one of our Spanish-speaking representatives.